How the Travel Calendar Works
Chicagoland residents who give up solo driving in favor of public transit save an average of $970 per month ($11,643* annually) according to the American Public Transportation Association's (APTA) June 2019 Transit Savings Report. That's a lot of money to save.
By using our Travel Calendar, you can calculate the amount of money you can save by tracking how you travel each day. With each trip logged, the calendar will also show the vehicle miles and pollution saved. Log both one-time rides and regular roundtrips to and from one destination. Every form of travel selected that is not driving alone is included in the calculations. Driving alone is handled the same whether one is using a motorcycle, car, truck or electric vehicle.
When you are registered and signed-in, you can access the Travel Calendar.
Logging your Trips
Start by selecting 'Travel Calendar' from the menu.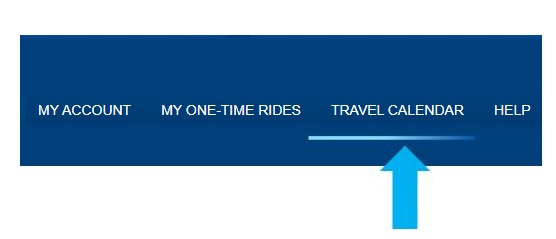 To begin, select a date on the calendar and this widget will appear:
Under 'Create a trip'
Select a type – Pick the direction of you commute: round trip, or one-time trip. In some cases, the distance traveled in each direction may have different miles. For example, going to work is 26 miles but heading back home is 22 miles. In these cases, separately select to home and to work/school to adjust the calculation.
Select a mode – Indicate how you traveled by transit (bus or train), Pace Vanpool, carpool (as a rider or driver), bike, walk, taxi or drive alone.
Miles – The miles are preloaded and based on the length of your commute from your origin to the destination.
Once you select 'submit,' your trip will appear on the calendar. You can drag your commute to a different date or delete it by selecting the 'x'. You can also go back to see a trip summary details by selecting the entry. Note that certain days on the calendar are disabled since you can only report trips as much as 30 days in the past but none in the future.
Create a Template
You can efficiently log your commute using a template. This is perfect for multi-modal commuters. For example, if you travel by Pace Vanpool to a transit station to ride the train and then walk to work all these details can be stored into one entry with a template.
To begin, select 'Create a Template' and this widget will appear: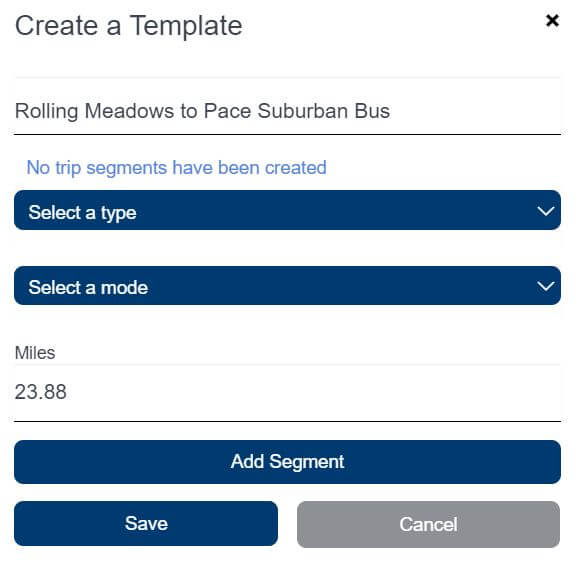 Using type and mode, you can create a segment for each part of your commute and add the segments together into one commute option.
Start by selecting the type, mode and miles traveled
Then select 'Add Segment" and the new segment of the commute will appear
Repeat this process until you have included all portion of your total commute. Then, save your template by selecting 'submit.'
See the below example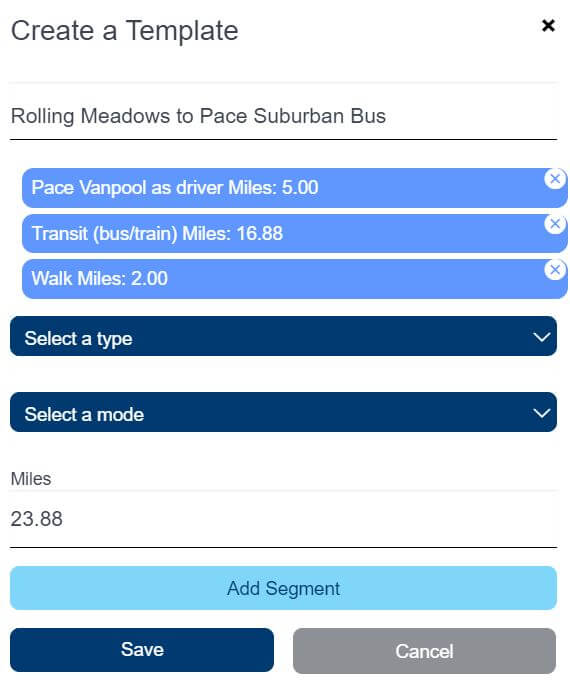 Using a Template
To use a template, after you select a calendar date, you can select your template from the dropdown or if it appears above the calendar you can quickly drag and drop it.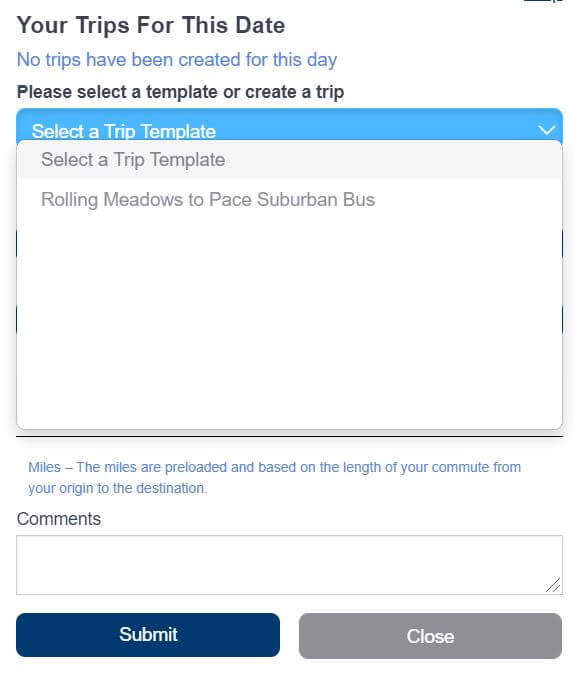 or you can quickly drag and drop it from above the calendar to a day.
Deleting a Trip
You can delete a trip by clicking or touching the 'x' next to it.
Your Savings
As you populate the calendar with your commutes, the summary of vehicle travel, pollution and cost savings will update. To learn more about your savings, select 'Show Details' located above the calendar and see your totals plus the savings of other commuters who registered by selecting your employer in the commute preferences.
More Savings
In addition to tracking your savings, if you have vehicle insurance and you reduce the amount you drive in your vehicle, you could lower your auto insurance premiums. Call your insurer to find out what discounts might be available when you lower the miles on your own vehicle.
Please note that you could enjoy additional savings when you travel by bus, train and Pace Vanpool. These fares can be paid with pre-tax income by employees of companies that participate in a payroll deduction or a transit benefit program.
If you have additional questions, contact us at vip.rep@pacebus.com or send us a message through the Pace RideShare Facebook business page.